On Monday, November 29, 2021, the Louisiana Superintendents Advisory Council met with the state Board of Elementary and Secondary Education to discuss the annual letter grades given to school districts across the state. It was decided that each school district will be given unofficial "simulated" test scores for their schools' performance for the 2020-2021 school year.
---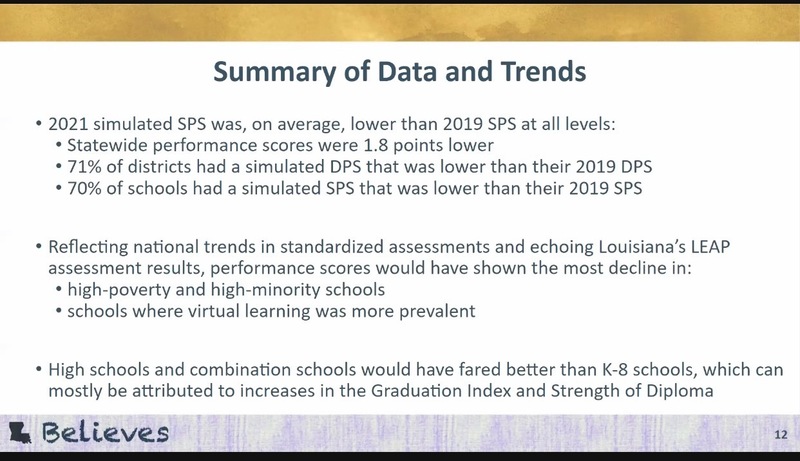 ---
Due to high numbers of virtual enrollment during the 2020-2021 school year, test scores plummeted in virtually all 69 school districts. The Natchitoches Parish School District saw a 1.5 point drop in performance scores during the Covid-19 pandemic.
Natchitoches Parish Schools had 1,178 virtual students during the 2020-2021 school year, which totals to 21% of the district. This percentage of virtual students greatly impacted individual school performance results.
NPSB had five schools which saw growth. The schools that saw drops in performance scores averaged 8% more of their student body in virtual learning than those that improved. Two schools dropped less than one point and seven schools in Natchitoches Parish dropped more than one point.
School leaders across the state were given these performance scores as planning resources to utilize in the future. "These scores are an unofficial calculation," said Thomas Lambert, assistant superintendent for the office of assessment, accountability, and analytics in the state Department of Education. "These results are really just for information and planning purposes rather than the traditional rollout." Furthermore, LDOE went on to say, "While changes in performance might represent real changes in student results over time, they are also impacted by distortions in data that were particular to the 2020-2021 school year"
Despite the overall decline in performance scores, Natchitoches Parish weathered the storm well compared to other states grappling with pandemic-related upheaval. NPSB had 8 schools that were honored by the Louisiana Board of Education. Six schools in Natchitoches Parish received Top Gains Honoree and two schools received Equity Honoree.
"We have a lot of work to accomplish in Natchitoches Parish," says NPSB Superintendent Dr. Grant Eloi, "and while we understand the context of our drop in achievement, we are not satisfied. That said, we are excited to be able to start moving past Covid and start making gains in student achievement."
For more information regarding academic standings in Natchitoches Parish Schools, please follow NPSB on social media or visit www.npsb.la.